RATING: F
BEWARE OF PRODUCTS BY JON SHUGART OR LUKE SAMPLE

If you hear the name Jon Shugart or Luke Sample, you would be wise to exercise a good dose of caution.
Team Jon and Luke advertised an expensive product that was basically over-sold and under-delivered.
Their product, "BITMINER PRO", was a Bitcoin mining computer touted to deliver a certain amount of Bitcoin (.045 BTC daily).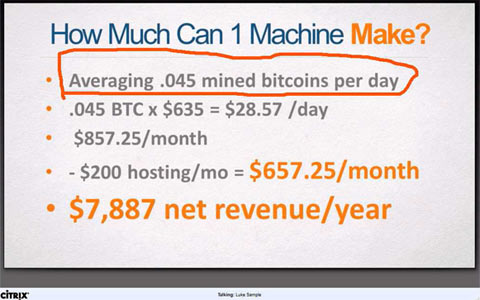 Slide from BITMINER PRO sales webinar
HOWEVER THE REALITY WAS ONLY A FRACTION OF THE RHETORIC; WITH ACTUAL DELIVERY AT A MERE .015 BITCOIN DAILY.
$4k Boat Anchors
At $4k per computer, and lots of people buying multiple computers apparently, there must be many who invested big and were stung.
Jon Shugart and Luke Sample and the team at BITMINER PRO stopped replying to inquiries. And with them holding onto and running the BITMINER PRO computers at their facility, I'm not only out a nice chunk of change, but I don't even have posession of the mining computers. Now it's a long, hard slog to try and get my money back (thanks Jon and Luke).
Jon and Luke were cool once upon a time...
And that earned them trust. But then they exploited that trust on a dubious high ticket item.
Self-proclaimed "Super Affiliate Rockstar" Greg Davis promoted the BITMINER PRO product.
In a Nutshell
Jon and Luke took lots of money without delivering product, and to top-it-off they refuse to communicate.
Jon and Luke's handling of the whole BITMINER PRO ordeal is all the proof needed to stay clear of these two fellows. Or at the very least to be extremely cautious and do your due diligence - very thoroughly.
Click Here for another person who suffered a similar fate with Jon and Luke.